A place of life
The feel of a home from home
The hotel is designed like a family home in the heart of Paris. The living space on the ground floor invites you to enjoy convivial moments around large tables and snacks to nibble throughout the day.
The conservatory floods with natural light to create a joyous and welcoming environment where life is good. From breakfast to the aperitif hour, by way of Tea-Time, you are welcome to relax on one of the attractive banquettes and read a book, plan your activities or do some work. You will feel completely at home here...

Homemade breakfast
Home-made treats
What could be better than a fresh, healthy and delicious breakfast to start the day?
Here at the Maison 46 a tempting breakfast buffet is generously stocked with home-made treats each day. You can enjoy delicious biscuits, cakes and gâteaux baked on site, as well as pastries and bread from the nearby bakery.
Those who prefer a savoury start to the day are also well catered for, with eggs prepared as you wish, sausages, bacon and charcuterie, plus dairy products. All the foodstuffs are carefully chosen for quality. Organic, gluten-free... Everyone will find their preference at the breakfast table.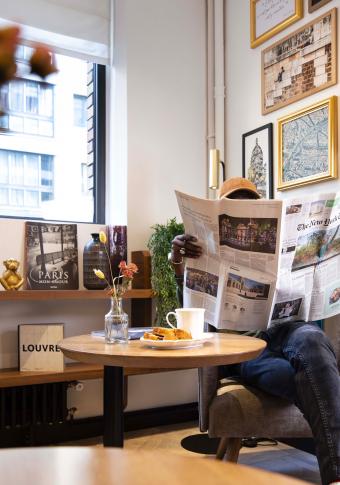 Tea-Time Treats
In the conservatory
Succumb to the temptation of a spot of indulgence in the conservatory. When you drop by at tea-time, you'll be intoxicated by the irresistible aroma of freshly baked gâteaux. Our Tea-Time offer of a hot drink and a pastry of your choice gives you the opportunity for a well-earned break from the hustle and bustle of Paris. The menu varies with the seasons but always goes beautifully with the Dammann Frères teas.
You deserve a little treat!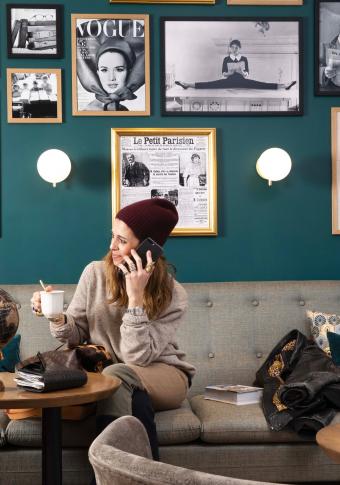 Bar
Pleasant surroundings
Whether or not you're staying at the hotel, at any time of the day you're welcome in the pleasant surroundings of the conservatory for a drink. Like an English bar, a selection of wines and spirits is offered on an old-fashioned trolley.
To get a taste of the Parisian way of life, accompany your aperitif with a snack from the cheese and charcuteries boards... A very French way to start the evening before discovering the excitement of the Parisian night.